The other day I was invited immediately tried to use the App Inventor.
※ Inventor App, without requiring programming
Android to create drag and drop web application
A tool like a dream.
Application development in the App Inventor, use the two screens.
The first designer window.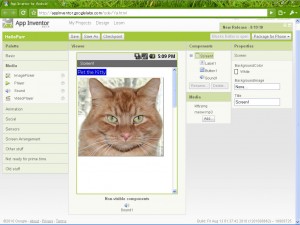 Movement in the browser,
The visual part of application design.
What Android app design,
Originally I will write the XML in
Sights with lots of pretty much going to have to look what he wanted.
Designer windows that point,
♪ can be arranged very easily by drag and drop buttons and images
The second and Burokkueditauindou.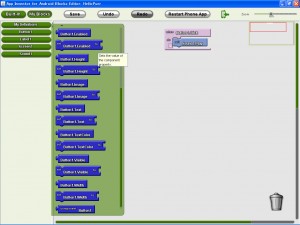 This is will create a movement application.
For example, if you move after you press the button, or
Those parts of logic.
The block editor,
JAVA applications for your PC to download and use the form above.
You can also drag and drop operation.
It is like Lego parts
Combined time "snap!" ♪ I sound kind of fun and
This App Inventor, on hand to Android handsets but I use USB cable connected
App Inventor of the amazing devices that are reflected in real time what made!
If you add a picture of a cat in the window designer
And immediately displayed in the terminal,
If set to make noise when you click on the picture
Now try their behavior in the terminal.
I'm developing in Eclipse and so far, it looks and tested to
Start the emulator without having to bother or Ikenakatsu,
Ikenakatsu and you start to install the application Naosanai terminal,
I had a fine time taking care that no
App Inventor very convenient because you can see it now!
♪ nice try but did not feel movement
It has also provided various tutorials
Remember the feeling from the concepts and application development tutorial
I think it's into the Eclipse programming in.
I still play!